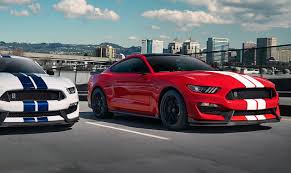 Manteno Ford has your lowest APR's on a new Ford Mustang Kankakee, IL. APR, also known as annual percentage rate, is what you can expect to pay every year as a result of your auto loan. People borrow money basically from auto lenders to buy a new or used vehicle. Drivers have to pay these loans back, and the amount is reflected as the annual percentage rate. The APR not only includes what you pay on an annual basis to borrow money, but it also includes any fees involved, as well. The APR is communicated as some kind of percentage, and for people with good credit, this number falls right around 3%, give or take. Of course these numbers do start to vary quite a bit once you throw in other drivers with varying credit scores. Manteno Ford has professionals that work hard to get you the lowest APR's on a new Ford Mustang Kankakee, IL.
Not only can we give you low APR's on a Mustang selection, but we will do our best to give you an excellent APR on any other vehicle that we have for sale. Customers can also speak to us about our low vehicle prices, including our MSRPs. Manteno Ford is here to tell you more about our remarkable offers and our specials that we have available. Finance specials, manufacturer offers, incentives, and service specials are just a few things that we have listed on this website that will get your attention. Please speak to us about other types of specials, including our lowest APR's on a new Ford Mustang Kankakee, IL.
You can also research new vehicles online. We give you plenty of diverse information when it comes to finding out more about a specific Ford model that we have for sale. You can research a Ford Fiesta, a Ford F-350 Chassis, the Ford Expedition Max, the Ford C-Max Hybrid, Ford EcoSport, Ford Shelby GT350, Ford Taurus, and many other outstanding selections. Remember, Manteno Ford comes at you with some of the lowest MSRP prices around. You will want to talk to us about our MSRP rates, our new, pre-owned, and certified pre-owned vehicles for sale, and how to get the best financing and trade-in offers. Don't forget to also speak to us about getting the lowest APR's on a new Ford Mustang Kankakee, IL.
The Ford Mustang is an awesome muscle car that gives you roaring power and thrilling road performance. This sports model is a very fun type of car to drive. Drivers have many different kinds of body colors to choose amongst here at Manteno Ford, and you can take a test drive to get familiar with this vehicle's features. Low MSRPs are always possible, even with this type of vehicle. Please talk to us about our prices on the Ford Mustang for sale today. We also look forward to telling you more about our lowest APR's on a new Ford Mustang Kankakee, IL. Just contact us to get the assistance you require.